Good Morning Madam,
We would like to give feedback for the last two events organized by you for kids.
We really like both the events as Adhiraj was excited for them. I like the way you people circulated teasers on daily basis to create excitement. Also, it made us active along with Adhiraj. All such events are helpful in making a good bond between student and teacher.
We appreciate thIs from the bottom of our heart.
Thanks
Parents of Adhiraj, KG C
Hi
Both the teacher's played good role in Halloween party and in entertaining all students even as a parent we too enjoyed by watching students and teacher's mutual understanding for Halloween party. Great job
Parents of Milad Bin Shahnawaz, KG D
Very nice Halloween celebration organised by Jyotsna Ma'am and Gurdeep Maam…Thanks for all the fun.
Parents of Ayaansh Dhawan, KG D
Hello Komal Ma'm,
It was nice talking to you today . I appreciate all the efforts you are taking with students and also helping my daughter with her studies.
Teaching through an online medium is a difficult task , but your efforts have made it engaging for the young children.
Thanks and regards,
Madhvi Datta
M/o Ameesha Datta
Dear Jaspreet ma'am,
This is to apprise you that all the activities which were held till now were so creatively conducted making sure that all the knowledge related to that is also absorbed by the kids properly.
And, at the same time, keeping the interest of children intact.
Nothing could have been more perfectly done than what you have been doing already.
Yes, but most recently, Goa trip was "Superb". Actually, I felt like participating with you all. You made it so real and obvious that children went so crazily excited.
And ma'am, I must say your dance was so fun-filled and awesome. Utkarsh just loved it and enjoyed it to the fullest.
Just want to say ma'am that you've been doing fabulous job.
Thank you so much for keeping the energy and spirit alive in all the children!
Yours sincerely,
Neha Salwan (1E parent)
Hello Mam,
Such fun 
it
was! Even for parents on Saturday Activity – Virtual Tourism
Parent of Atharv Kaushal, 1E
Hello Ruchi Gupta Maám,
Thanks for taking each topic again and clearing the doubts of my ward. I liked the worksheets given for each topic as that made the concept more clear.
Thanks.
Mother, Purvi Panda – IV
Hello Ma'am,
Thanks for explaining the concept of Google classroom in the class. We attended the session and it was useful.
Will use it for submission of classwork and homework from now onwards.
Thanks and Best Regards,
Ayush
Avisha's Father – 1B
Dear Mam,
Good Morning..!!
It was a pleasant learning experience for me of google  classroom,
Regards,
Tarun Kumar
( Tamanna Sharma 1B)
Hello Ma'am,
Thanks for conducting the interactive session on Google classroom and you  explained it very well. It was really helpful.
Thanks,
Amrita(Ahaan's Mother) – 1B
Greetings of the day!
Hello… Today's session on National sports day was a great event organised by the teachers of Nursery B…kudos to Neha ma'am, Preeti ma'am and Guneet ma'am…never thought that a digital session can be so engaging not only for kids but for the parents as well…enjoyed all the games and quiz…thanks for your efforts!!!
Parent of Akshaj, Nursery
Greetings of the day!
Sportsday was really well organized, we enjoyed it, interaction of parents and teachers is also good, kids are also enjoyed it, they want more such type of sessions
Thanks.
Warm Regards,
Parents of
Reyansh Singh, KG
To dear Richa mam and Charu mam,
I really appreciate ur great efforts in this new era of the online classes,to keep kids engaged with the individual attention asking their interests and daily routine helps them to make a personal relationship with the teachers.I understand that it needs parents efforts too to keep them seated but it's for our own kids so it's ok for all the hard work from our side too.Really happy with the collective efforts of Richa mam and Charu mam.
Best wishes and hope things get well soon for the classroom experience for kids.
Mrs. Singh, Parent of KG
Dear Ma'am
I am happy with the progress of my child Mugdha. Thank you so much all the Teachers, kanchan maam and Team for taking so much efforts to help child learn.
Congratulations team dps 84
Parent of Pre Nursery
Hello Teachers,
Atharv Kaushal wants to wish you all a very happy Teacher's Day, 2020. He says he loves you all for the immense amount of care that you show towards him !
This year had been the best teacher to all of us, to look inwardly forward and to learn to be content in whatever situation life throws at us ! May you all and the DPS 84 team together, continues to imbibe all the good morals and values of life in your students ! Thank you for taking care of kids so well ! Happy Teacher's day to all of you !
Regards,
Gargi Kaushal, Grade-I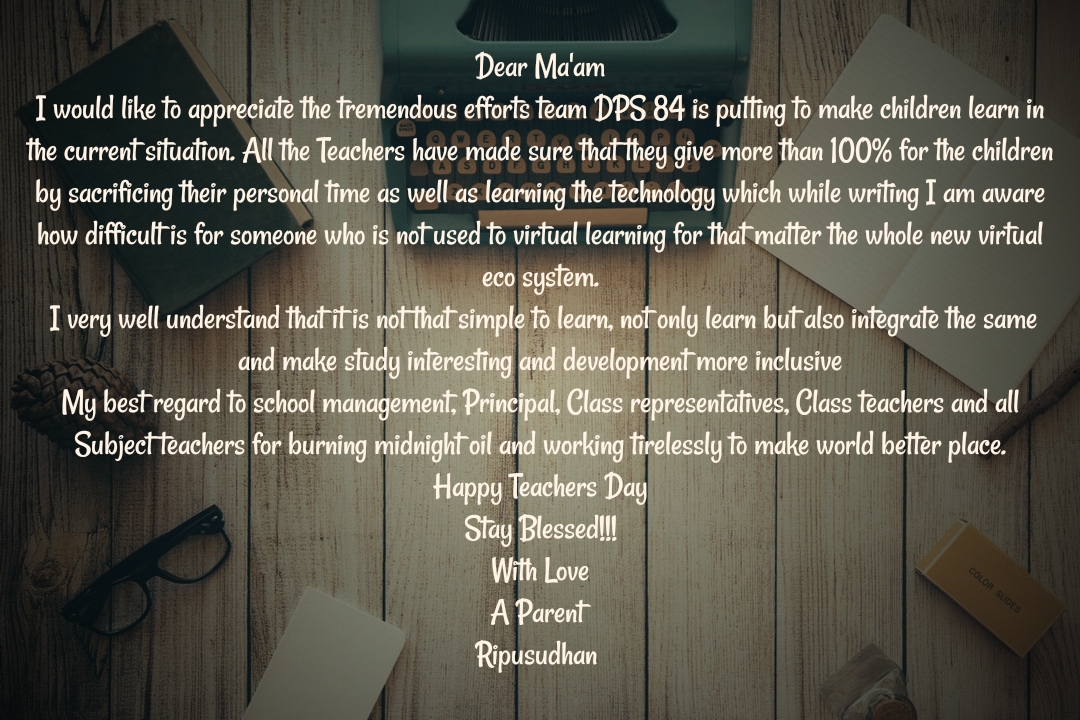 Greetings of the day!
DPS 84 is best School. Had a good time with DPS Family. My daughter really enjoyed with their Staff. Security wise, it is very good especially for girls!! Really very good school.
Thanks.
Warm Regards,
Ishani's mother
Honey Dubey
Greetings of the day!
Improvement in the child in terms of communication, attitude towards work and social life.
Thanks.
Warm Regards,
Parents KG A
Dear Principal,
The place is perfect for studies. The amount of energy my child has, is well utilised. Short stories are narrated for concept teaching.
Thanks.
Warm Regards,
Parents KG B
Dear Principal,
Improvement in child, happy with the curriculum and extra-curricular activities.
Thanks.
Warm Regards,
Parents KG E
Greetings of the day!
Trishan has grown beautifully under the care of the wonderful DPS school teachers. He has grown academically and inculcated various important virtues which are really important. We appreciate the theme based study and at this young age he understands concepts like rain water harvesting, traffic rules and how to make a better India!
Once again lots of thanks and we wish you all the best
Thanks.
Warm Regards,
Parents KG E
Dear Principal,
Happy with the day to day class activity and keeping child updated with current affairs like Chandrayan 2. Also, appreciate "Show & Tell" activity. It has helped my child to be confident in public.
Thanks.
Parents Nursery
Greetings of the day!
Shanvi's communication skills and the skill to mingle with her fellow classmates have enhanced. She looks forward to doing her homework and is happy to go to school daily.
Thanks.
Parents Nursery
Dear All,
Two months before we were too confused which school to put Reyansh in, because when you make the difficult decision of leaving your children in the care of others, there are never enough assurances to ease your mind and comfort your heart. You do your best to research a childcare facility, visit the location, and meet the staff. Individually, and as a whole, we saw first-hand how supported, safe and comfortable my son feel.
It was our first time enrolling our son in nursery school so we were nervous at first but the Principal, teachers and the rest of the staff at DPS are so incredible that they soon made us feel comfortable.
DPS is such a great school!! From the moment we registered our son and talked with the wonderful office staff we had a feeling that this school was going to be great for our son.
Sending our son to DPS was our first experience with a nursery school and to be honest we weren't sure what to expect. What we discovered was a wonderful environment filled with a caring and loving staff.
We would like to take this opportunity to pass my thanks to the Principal, motivated and engaged teachers, professional team, friendly and welcoming staff.
We are so thankful of the choice we made by choosing DPS sector 84. However, the reasons we are proud of our choice go well beyond DPS answering all of the worries we had as new parents.
Word are too short for me to express my pride and gratitude for DPS and its management.
We truly appreciate it!!
We feel so blessed every day that our Son goes to the DPS.
Greetings of the day!
Truly speaking, it has been a very good experience ever since I started interacting with school and my daughter started her classes. I am penning few words below with regards to the school.
"It takes a lot while deciding to change the school of your child. There is not only an apprehension about the new school's prodigy but also a psychological shift that takes place in both parents and the child. We had similar decision dilemma and lot of queries were running in our minds when we decided to change our daughter's school to DPS-Sec84.
I think it all started with our first meeting with the Principal and staff during the admission test of our ward. While the school building was still under construction, but we could observe that the foundation of leadership and governance was clearly visible through the stellar team working under the able guidance of the Principal. All our intrinsic queries were answered and we were sure that our decision was going to be a right one.
And yes, the above was true. The school welcomed my ward and us with open hands sending a clear message that my child was going to be nurtured well with knowledge and discipline. I am satisfied, I am happy. All I can say – My daughter is one of the saplings in DPS-84 Garden and I have full faith in the 'Gardeners'. All the best DPS-84!"
Thanks.
Warm Regards,
Shah Amber
F/O Areena Amber (III A)
Dear Principal,
I feel extremely happy writing this note and sharing some thoughts and observation that I have for the school and the teachers. My son " Dhairya Rajan is a student of "Nursery C"
As a parent I was quite worried about choosing the right school for my son and making sure he gets the best of teachers and mentors in his initial years of learning. I am extremely delighted to say that our decision to choose DPS above all other options was appropriate and correct.
Principal and teachers standing at the main gate of the school on the 1st day and greeting the parents and the kids with big smile, responsible staff at the ground including the security guard and the didi's , Ms Mansa and the Principal who knows your child so well already, class teachers welcoming the students and assuring the parents of the kids well-being. All of this makes me fee proud and confident of the fact that my child is in safe hands and will have a great learning environment.
Thank you to the entire staff and wish you all the best.
Regards,
Neeru Sharma